what we offer
Poly Studio Series
Impromptu sync-ups, weekly check-ins, team brainstorms—huddle rooms clearly are where it's happening today. Poly has a flexible range of easy-to-manage video solutions built to power collaboration in these smaller spaces. And at a price you can afford. From USB video bars that easily connect to a PC to all-in-one solutions that natively run your favorite cloud video app, huddle up and get ahead with Poly.
The Poly Studio E70 is a first of its kind intelligent camera that brings mind blowing video quality, state-of-the-art audio features, and advanced analytics to modern meeting rooms. Dual cameras with 4K sensors are boosted by Poly Director AI technology to create an unparalleled video experience, perfect for hybrid working environments. The ability to seamlessly transition between a wide angle and narrow lens means that everyone in the room is seen in sharp detail. With Poly Lens enabling worry-free deployment and management, all you'll need to do is immerse yourself in a truly life-like meeting experience.
Dual cameras with 4K sensors
AI-driven camera array
Motorized, integrated electronic privacy shutter
Includes Poly Lens management software
Connects to Poly G7500 and Poly Microsoft Teams Room
Beam forming microphone array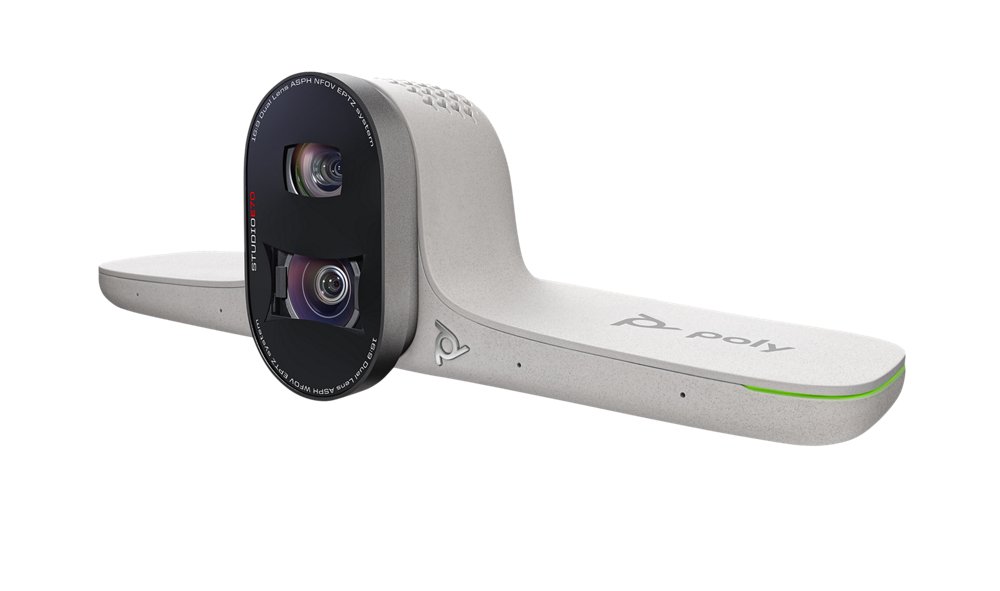 The Poly Studio X50 video bar delivers radical simplicity in a small, elegant package. In small- and medium-sized rooms, connect easily with whatever video collaboration software you may use. Experience full boardroom-quality audio, advanced camera capabilities, and quick wireless content—all in one sleek video bar. And say goodbye to unnecessary pucks, cords, and cables, along with the PC or Mac to drive the meeting, since the Poly Video OS runs the show. Easy to install, easy to manage.
Ideal for medium sized rooms
Surround everyone with the rich, legendary sound with stereo speakers that deliver immersive, room-filling audio
Dual monitor support ensures you have the ideal setup for many types of rooms
Be heard clearly with our next generation microphone array
POLY STUDIO X30 VIDEO BAR
Meet the Poly Studio X30, an all-in-one video bar for huddle and small rooms. It's radically simple to use with support for leading cloud video services built right in—no PC or Mac required. Voices are crisp and clear, thanks to a beamforming microphone array and acoustic chamber design. Built-in, wireless content sharing lets users share from their devices without the need for cables or pucks. Setup, management, and maintenance are all streamlined, too. Say hello to lower IT costs. Ideal for huddle and small sized rooms
Compact, lightweight design easily fits on top or underneath display
Affordable price delivers excellent huddle room performance without breaking the bank

Meet Poly Studio, the premium USB video bar built for small rooms and big ideas. Delivering the best audio quality in its class, it blocks distracting sounds that can interrupt meetings. Teams on both ends of the call catch every word. With group framing and automatic speaker tracking, the connection feels personal. They see all the important details, too—right down to body language and facial expressions. Easy to manage? Of course. The cloud-based management tools let IT push software updates and make settings changes without ever leaving their desk. Poly Studio. The shortcut to better huddle room collaboration.
Acoustic Fence keeps voices outside the room from interrupting your calls
Up to 3.7 m/12 ft microphone pickup range
Smart-camera experiences are built in—no drivers or software needed
Centralized management enables high-scale deployments
Works with nearly any video platform